Making music fun in east anglia
Martlesham
Martlesham is in the county of Suffolk in the South East of England. Although we are less than 80 miles from London, people in our region are called 'East Anglians' (and are very proud of it!).
Martlesham is seven miles from the county town of Ipswich. Although the band is based in Martlesham itself, some people travel miles to play with us.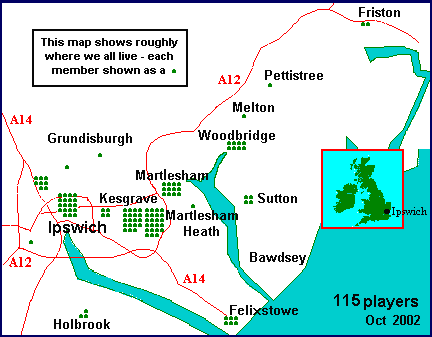 As you can see, we have grown quite a lot since we started in September 1996 - from 29 original players to our current capacity membership of around 115!
Martlesham itself has a lot of interesting history associated with it. Probably its most important role in the past was as an airfield from which Douglas Bader flew during the war (in fact we have a pub named after him). Today, Martlesham is probably best known for the world famous BT Adastral Park (formerly BT Laboratories) which is located on Martlesham Heath.
As well as having some of the most beautiful countryside in England around us, we have several interesting churches, lots of nice pubs, sports clubs, and of course a very lively brass band!